Visit to Rethymnon
Rethymno is the third largest city in Crete. It is known as one of the best preserved Renaissance cities in the Mediterranean region. It is located along the northern side of Crete and 80 km east of Heraklion.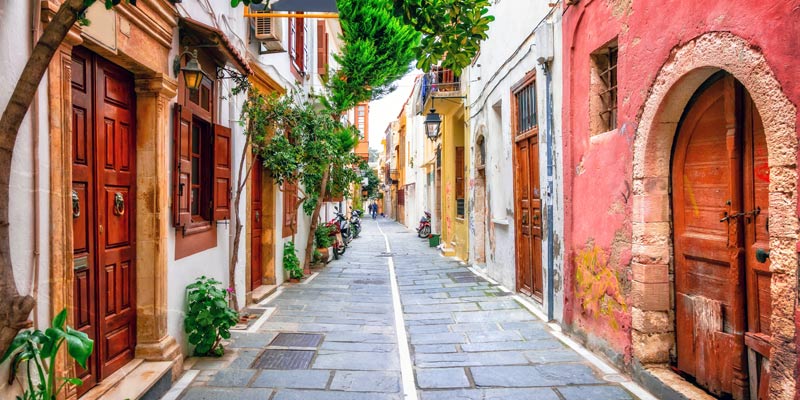 First we will visit the city center of Rethymnon and the old town. The city still retains its old aristocratic appearance, with its buildings dating back to the 16th century, arched doors, stone stairs, Byzantine and Greco-Roman ruins, the small Venetian port and the narrow streets.
These days small but luxurious hotels and restaurants can be found in the narrow streets of the old town. Try to get lost in the old town of Rethymnon, and discover the almost secret narrow alleys and paths of the 16th century.
Try in one of the many taverns and restaurants located in the old town pure Cretan flavors from recipes cooked only in Rethymnon.
The second attraction we visit is the castle of Fortezza. It was built by the Venetians to protect the city from the invasions of pirates and the Turks and it is located on the north side of the port of Rethymnon.
You can admire the fantastic view from the castle that stands proudly even today and hear the whispers of warriors from the Venetian years.
Last stop is at the Arkadi Monastery, located 25 kilometers southeast of the city of Rethymnon. It is a unique monument, a mixture of Roman architecture and Baroque architecture.
The Arkadi Monastery attracted worldwide attention in 1866, when 943 Greeks, mainly women and children, found refuge in the monastery in order to avoid being slaughtered by the Ottoman occupation army.
After 3 days of fighting and their reluctance to surrender, they decided to blow up barrels of gunpowder, choosing to die free. The explosion did not end the Cretan uprising, but attracted the attention of the rest of the world.